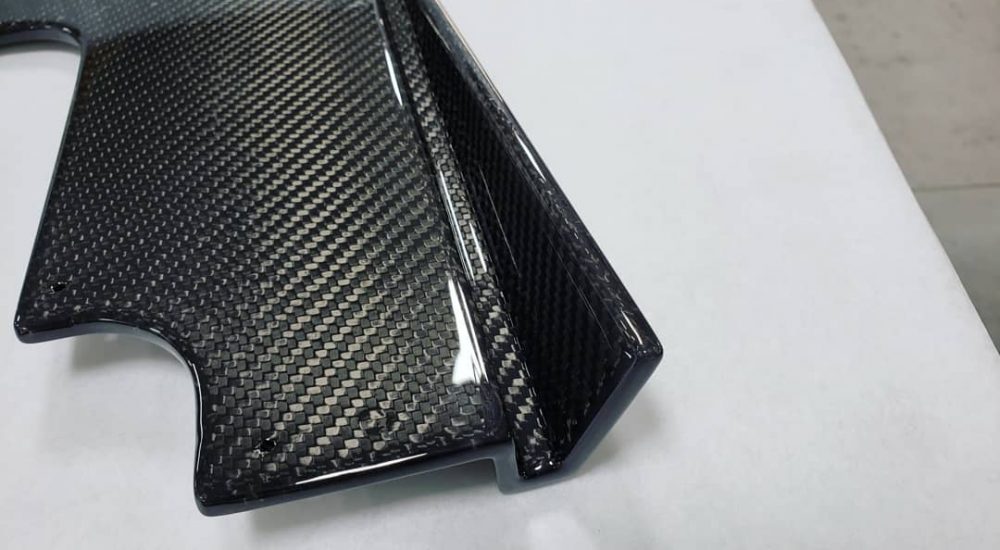 Carbon Fiber and Fiberglass:
Our carbon fiber and fiberglass molding processes are flexible enough for a single part, or 1000+ part production. We utilize multiple methods and technologies for composite parts production, all depending on the expected sales volume and cost projection for the parts being produced. Parts can be cloned from your component, or completed from concept by our in house design team.
Our composite services include:
Epoxy, vinyl ester, or polyester resins depending on the part's objective. Our most preferred resin is epoxy, for premium durability and weight-savings.
Multi-part production or one-off custom parts.
Repair or reproduction of damaged composite parts.
Exposed carbon fiber in a wide range of weave patterns.
Recycled carbon fiber, non-exposed carbon fiber, and both chopped-strand and cloth fiberglass.
3D Printing:
High-quality 3D printing is accomplished on either our large 42" cube build volume printer or our smaller high temperature, high resolution printer.
Our 3D printing services include:
Large-scale printing with a nozzle diameter ranging from .6mm up to 2mm
Small-scale printing with a nozzle diameter ranging from .2mm to 1.2mm
Dual-material printing
Wide range of materials: generic PLA, carbon-fiber infused plastics, flexible plastics, water and alcohol soluble plastics
Experimental metal-infused filaments for nearly 100% metal parts after kiln-firing. These parts can be machined, and are true metal parts made from bronze, copper, stainless steel, or aluminum, with the strength you expect from the base metal.
3D Scanning:
We utilize Artec scanners for offering premium 3D scanning services to builders, designers, and general consumers. These scanners are portable which allows us to scan your project on-site.
Our 3D scanning services can include:
Scanning items that range in size from a full-size truck to a coffee cup.
Scans are converted into a solid model using our CAD software and design team
CMM services coming.
3D Designing:
We have skilled 3D designers who can design components ranging from center consoles to car bodies. Our design services and skilled staff are one of the many things that set us apart from the rest, because we will keep the customer as involved in the process as they want, or allow them to be completely hands-free, and let us do all the designing.
Our 3D designing services include:
Complete product design, engineering, and execution from start-to-finish.
Prototyping, CNC routing, 3D printing, Machining, Bodywork, paint, and assembly.
2D sketches for proof of concept
Periodic updates on design changes/problems.
Realistic 3D renderings.
CNC Machining and Routing
We currently have a HAAS VM-6 large table CNC mill and a 5'x10' 5-axis CNC router. We can cut almost anything out of most materials.
Our CNC machining and routing services can include:
5-axis-cut high-density foam molds for low volume composite parts.
Injection mold making.
Custom billet aluminum or stainless steel automotive components.
Premium Kit Cars and Parts:
We are proud to announce that we are working on a full line of premium kit cars and trucks, in multiple price ranges, multiple materials (carbon fiber or fiberglass), and multiple chassis options. Because of our roots and passion in the custom car building industry, we have seen time and time again the poor quality kit car bodies and chassis that have flooded the industry and been given a sour reputation, and they've almost exclusively been made overseas. Poorly welded tube frames, "chopper-gun" bodies with sections of dry fiberglass, and bodies that move in the sunlight and refuse to allow a water-smooth paint finish.
Our kit cars are an entirely different animal, built right here in the USA in Knox, Indiana. Just like builders and owners tout steel bodies, we want them to tout their Fiber Forged Composites carbon fiber or fiberglass bodies. You know how you've always wanted flush-fit windows, smooth firewalls, and modern flush-fit headlight and taillight areas on that classic hot rod, but don't have the time or means to accomplish it? We've got you covered. Our staff with a rich history in the hot rod world know what you're looking for, so we've gotten rid of the large, terrible panel gaps, gotten rid of the excessive trim (but you can still add it later), tightened up the headlight and taillight areas for an ultra-modern appearance, developed a range of billet aluminum, steel, and stainless steel components, and designed custom interior panels.
Our kit car bodies utilize the RTM (resin transfer molding) production method. In addition to being pulled in under a near-perfect vacuum of 27 in/Hg, our resins are injected into the molds under at least 15 psi of pressure. The RTM process is what allows our parts to stand above the competition, with parts showing virtually no porosity and absolute resin infusion. Rest assured knowing that rather than leaving a sour taste in your mouth, our bodies will leave a sweet one.
We work hand-in-hand with Rothspeed, LLC to engineer and develop a line of high-quality, hardcore chassis that range from a lower-budget, simple frame to a hand-crafted artisan-built frame with billet control arms, custom rear end housings, Brembo brakes, liquid-cooled differentials, and just about every bell and whistle you'd want.
Our kit cars can include:
Complete rolling assembly, with body on chassis, brakes, suspension, built-in roll cage, headlights, taillights, wheels and tires, etc.
Body components sold individually to work with your compatible steel vehicle.
Full in-house completion of your car or truck
Install full electrical system
Install and tune full drivetrain
Show-stopping paint job
Full custom interior panels and upholstery
Complete turn-key package
Some of our upcoming kit cars:
67-72 C10 Pickup
"XL Series" Cobra